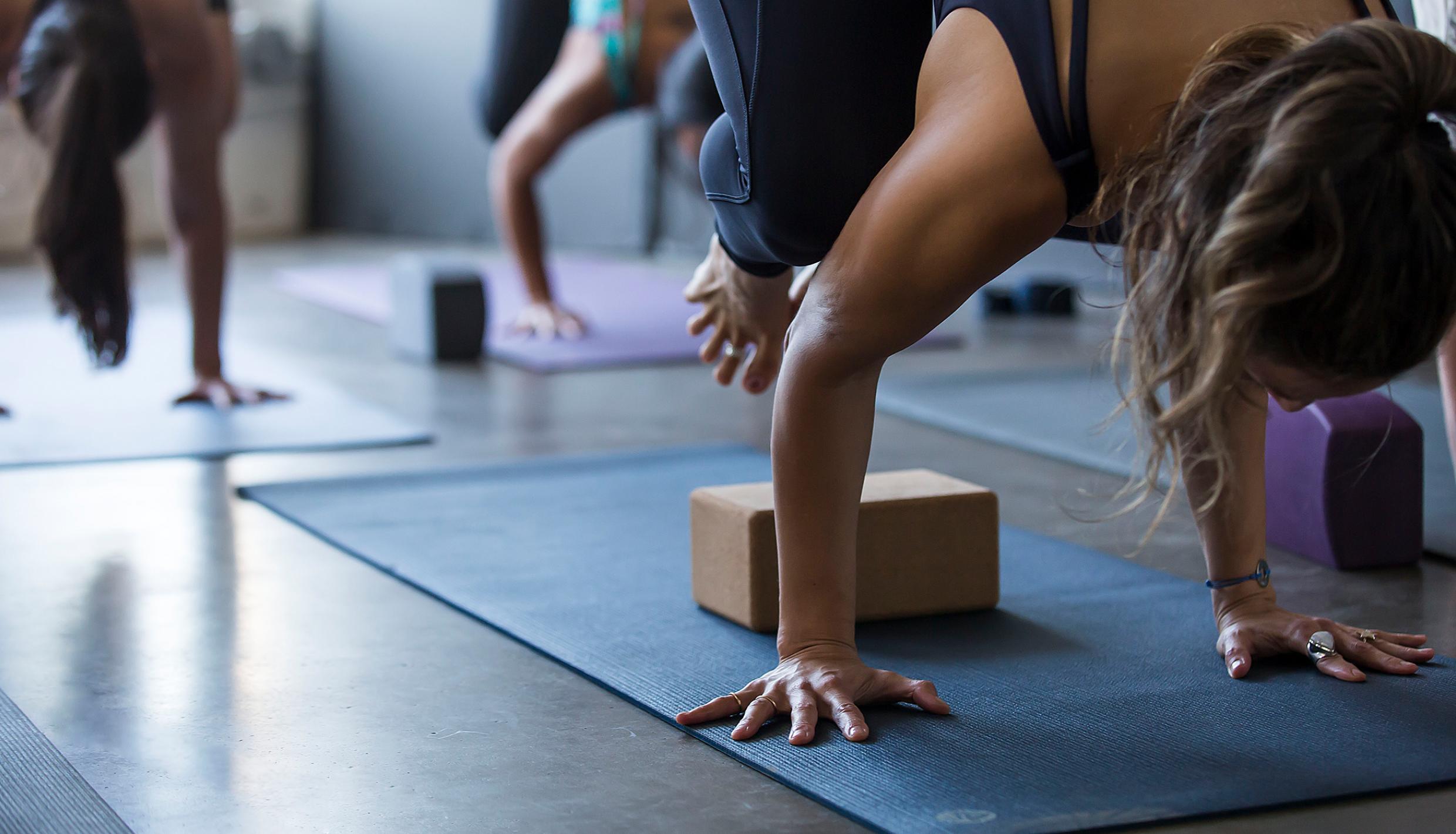 The Offer
Up to 20% Off Manduka Yoga Bundles Including Mats, Blocks, and Straps
Blue365 members can receive exclusive discounts on premium Manduka yoga equipment so that you have the right gear for your yoga routine.
Pro Yoga Mat Bundle including Yoga Mat, Cork Block and Strap: $149.99 (Regularly $158)
Closed-cell surface to keep moisture and sweat from seeping into the mat and breeding bacteria (ideal for hot yoga).
High-density cushion for unparalleled experience, joint protection, and versatility on any surface (carpet, cement, hardwood floors).
Fabric-like surface finish for optimal movement between poses.
Sustainable engineering ensures high quality material will not peel, flake or fade. Product improves with use over time.
Proprietary dot pattern bottom to resist sliding.
Standard 100 by OEKO-TEX® certified.
Hot Yoga Bundle including Cork Block and Strap: $149.99 (Regularly $166.99)
Bring the heat. Lose the towel. No matter how much you sweat, The Manduka GRP mat delivers supreme traction with no slip. From the leather-like surface to the charcoal-infused rubber core, this is one of the most innovative mats on the market. 
Upper layer provides proven anti-slip control in all sweat conditions.
Charcoal-infused natural rubber core absorbs sweat to eliminate odor.
100% open airflow filters moisture immediately for the ultimate towel-less experience.
Pro Yoga Mat with Garmin Watch Bundle including Yoga Mat, Cork Block, Strap and Garmin Vivoactive 4: $399.99 (Regularly $457)
Offers all of the features and products in the Pro Yoga Mat Bundle, along with the Garmin VivoActive4 watch. 
Respiration Tracking: See how you're breathing throughout the day, during sleep and during breathwork and yoga activities.
Pulse Ox Sensor¹ gauges your blood oxygen saturation during the day and as you sleep to show how well your body is absorbing oxygen.
Advanced Sleep Monitoring: Get a full picture of how you're sleeping with a breakdown of your light, deep and REM sleep stages as well as Pulse Ox and respiration data.
Menstrual Cycle Tracking: The Garmin Connect™ app lets you track your cycle, log physical and emotional symptoms and learn about training and nutrition during each phase of your cycle. Get cycle tracking information right on your wrist. You'll be able to see period reminders, cycle details and symptoms logged for the day.
Stress Tracking: See if you're having a calm, balanced or stressful day. Relax reminders will even prompt you to do a short breathing activity.
Hydration Tracking: Staying hydrated is important for your well-being. Log your daily water intake to help you stay hydrated and see how consistent you are from day to day.
 Wrist-based Heart Rate constantly samples your heart rate and will alert you if it stays high while you're at rest. It also helps gauge how hard you work during activities.
The Terms
Blue365 promotional code must be used to enter site and redeem offer.
Sales tax applies and varies by location. Tax will be added at checkout.
Shipping is included.
3 Year Warranty.
Refunds and exchanges will be issued for items returned within 30 calendar days of purchase.
Invite Fitness is a registered trademark of Invite Health, Inc.
This offer is only available on the Blue365 website.
Other important Terms and Conditions apply. Read our disclosure statement, terms of use, and privacy policy before proceeding further.