Introducing Fitbit Care
Support your employees' physical health, emotional wellbeing, sense of feeling connected to one another, and ability to make informed decisions about whether to come into the workplace. Contact our team to get started today.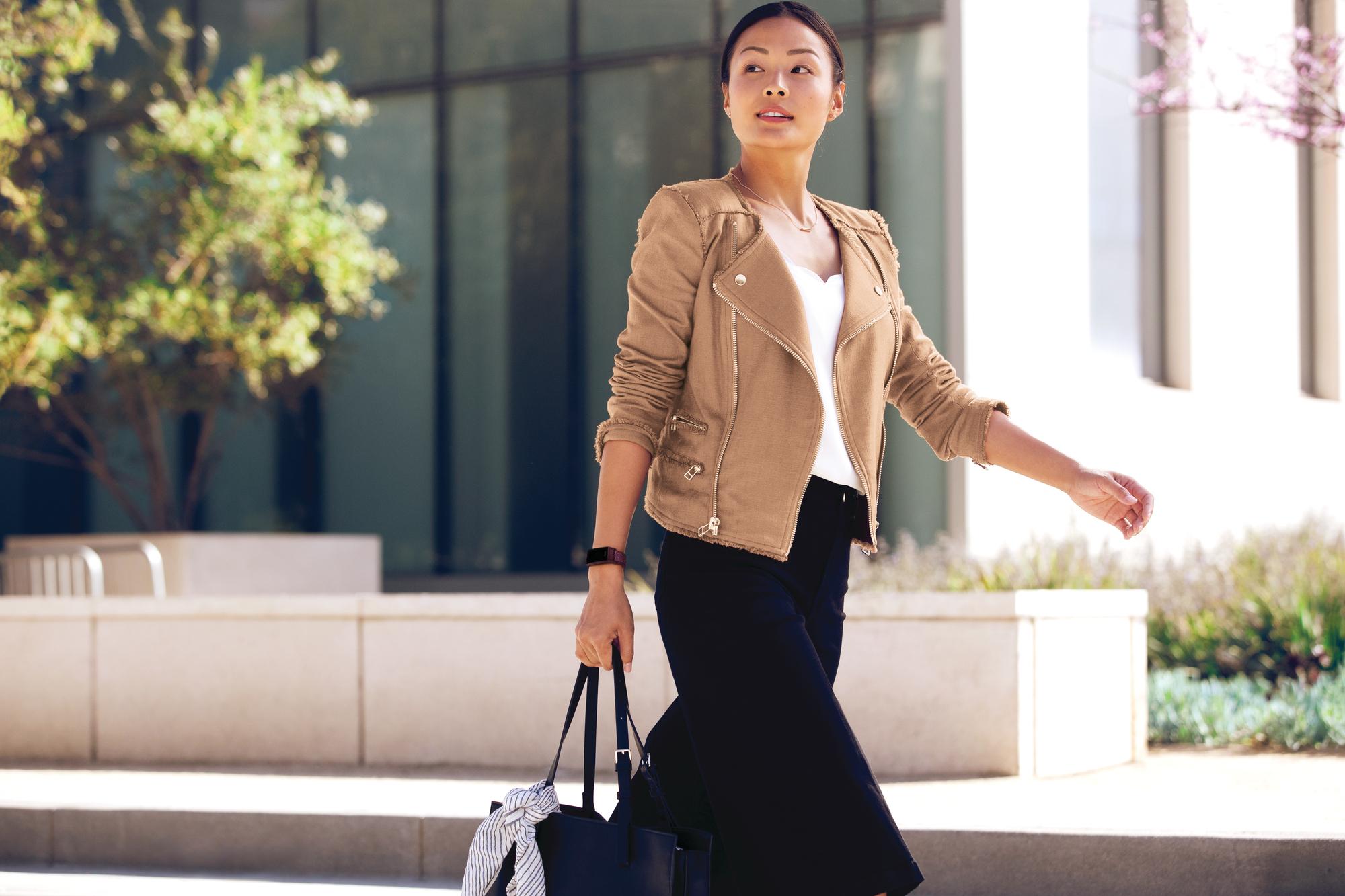 Go Beyond Bringing Your Workplace Back. Give Them the Tools to Live Better, at Work and at Home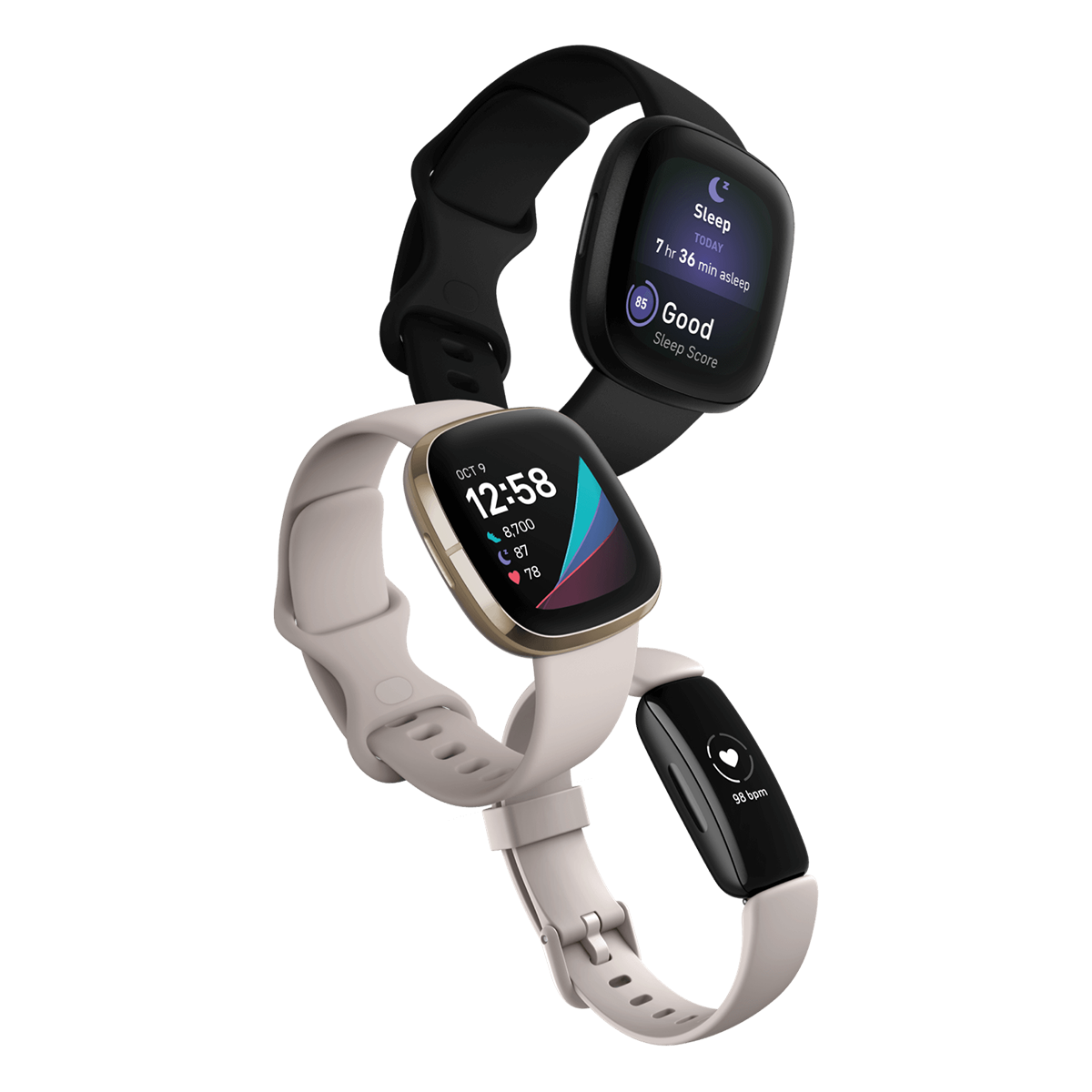 Fitbit Trackers & Smartwatches
Provide motivation, inspiration, and innovation on the wrist with a wide range of activity trackers, smartwatches, and a first-of-its-kind health watch.
Fitbit Premium™ Membership
Help employees stay active and well at home with in-app workouts, guided programs, sleep and stress management tools and insights to tie them all together.
Customized programs help keep people moving, eating well, sleep better and stressing less
People can wake each day to a new workout, and can access thousands more video and audio workouts any time, all without leaving home
Advanced sleep tools help people better understand their sleep patterns
Employers who wish to provide employees with access to Fitbit Premium along with a new device can access special pricing that includes 12 months of Fitbit Premium access from the date of connecting their device in the app. This can be provided with either bulk device purchases or made available directly to employees through a storefront at the following exclusive Blue365 prices:
Fitbit Premium + Device Pricing

| | | |
| --- | --- | --- |
| Device + Premium | Bundled Offering Bulk Pricing | Bundled Offering Storefront Pricing |
| Inspire 2 | $79.00 | $86.00 |
| Charge 4 | $101.00 | $108.00 |
| Charge 4 SE | $116.00 | $123.00 |
| Luxe | $116.00 | $123.00 |
| Versa 2 | $143.50 | $150.50 |
| Versa 3 | $182.00 | $189.00 |
| Sense | $236.00 | $243.00 |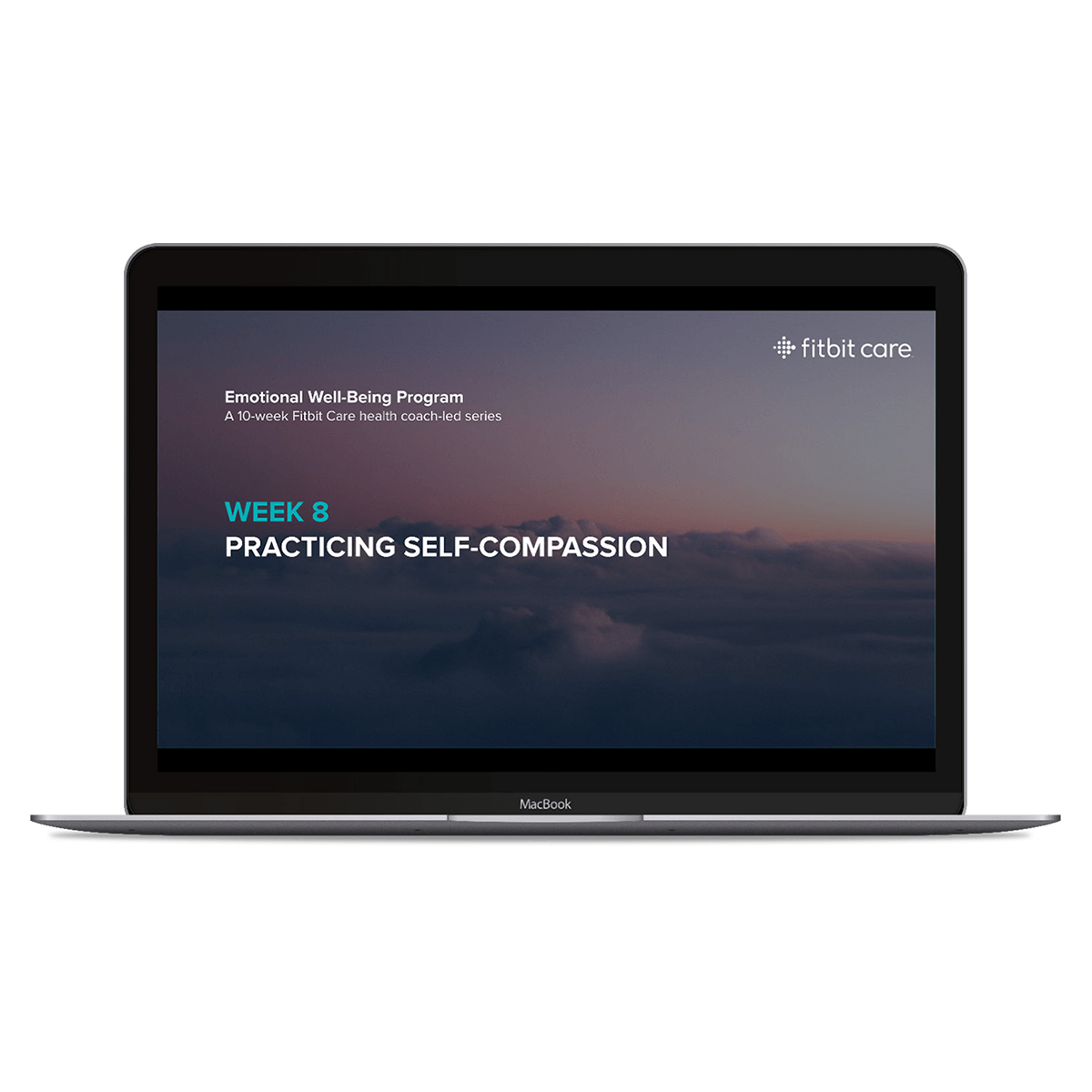 Emotional Wellbeing Programs
Provide extra emotional wellbeing support - now; when employees need it most-with an expertly crafted stress management content series from Fitbit health coaches.
Weekly on-demand content—delivered as audio, video and readings—on 5 emotional wellbeing topics, including Moving to Manage Stress, Cultivating Mindfulness
Zoom discussions led by Fitbit health coaches allow participants to get their questions answered or just listen and learn
Guided action items help participants put what they're learning into practice
Fitbit CareTM Ready for Work
The Ready for Work solution combines symptom, exposure, and temperature logging with key metrics tracked from Fitbit devices into an easy-to-use Daily Check-in experience. Why is data from Fitbit devices important? Early research shows that resting heart rate, heart rate variability, breathing rate and other key health indicators from wearables have the potential to identify flu-like illness before symptoms emerge. So by providing this data alongside daily symptom and exposure tracking, you can give employees a more complete view of their health, and help them make more informed decisions about whether or not to go into the workplace.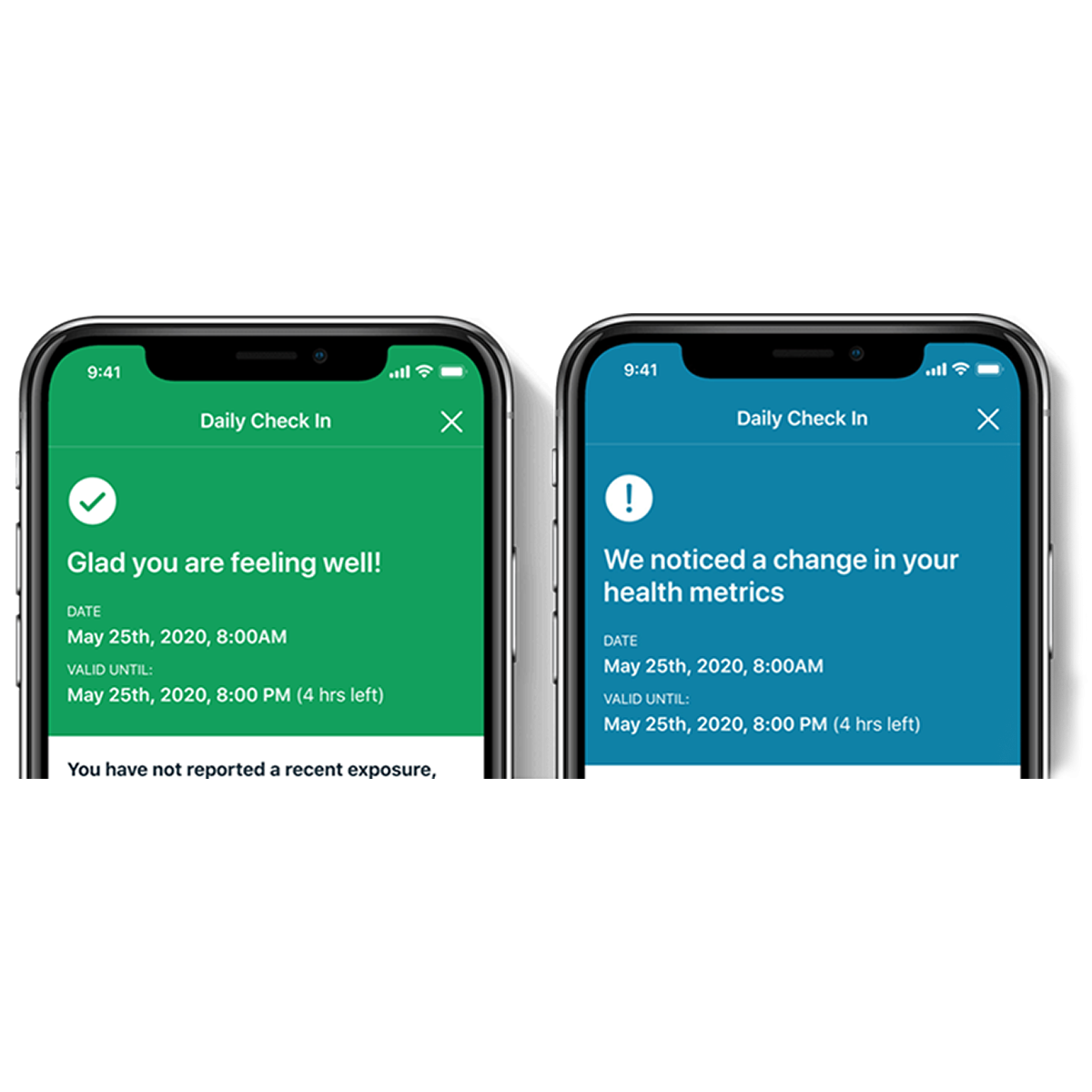 Simple Setup
In order to get started, employees will:
Join the Fitbit Care program
Agree to share their Daily Check-in results with their program provider
Add information about their location in the workplace  - so that their employer can easily locate potential COVID-19 risks

Complete Daily Check-Ins
Each morning before employees go into the workplace, they complete a Daily Check-In. This takes 2-3 minutes and includes:
A quick review of their health metrics to understand if they may be out of normal range
Logging recent exposures to COVID-19, recent rests for COVID-19, symptoms they are experiencing, and temperature

Guidance to Decide Whether to Go Into Workplace
Upon completion of the check-in, employees receive guidance informed by CDC guidelines which will be one of the following outcomes:
Feeling well
Incomplete Assessment
Changes in key health metrics detected
Reported symptoms
Reported elevated temperature
Reported exposure, or
Reported positive test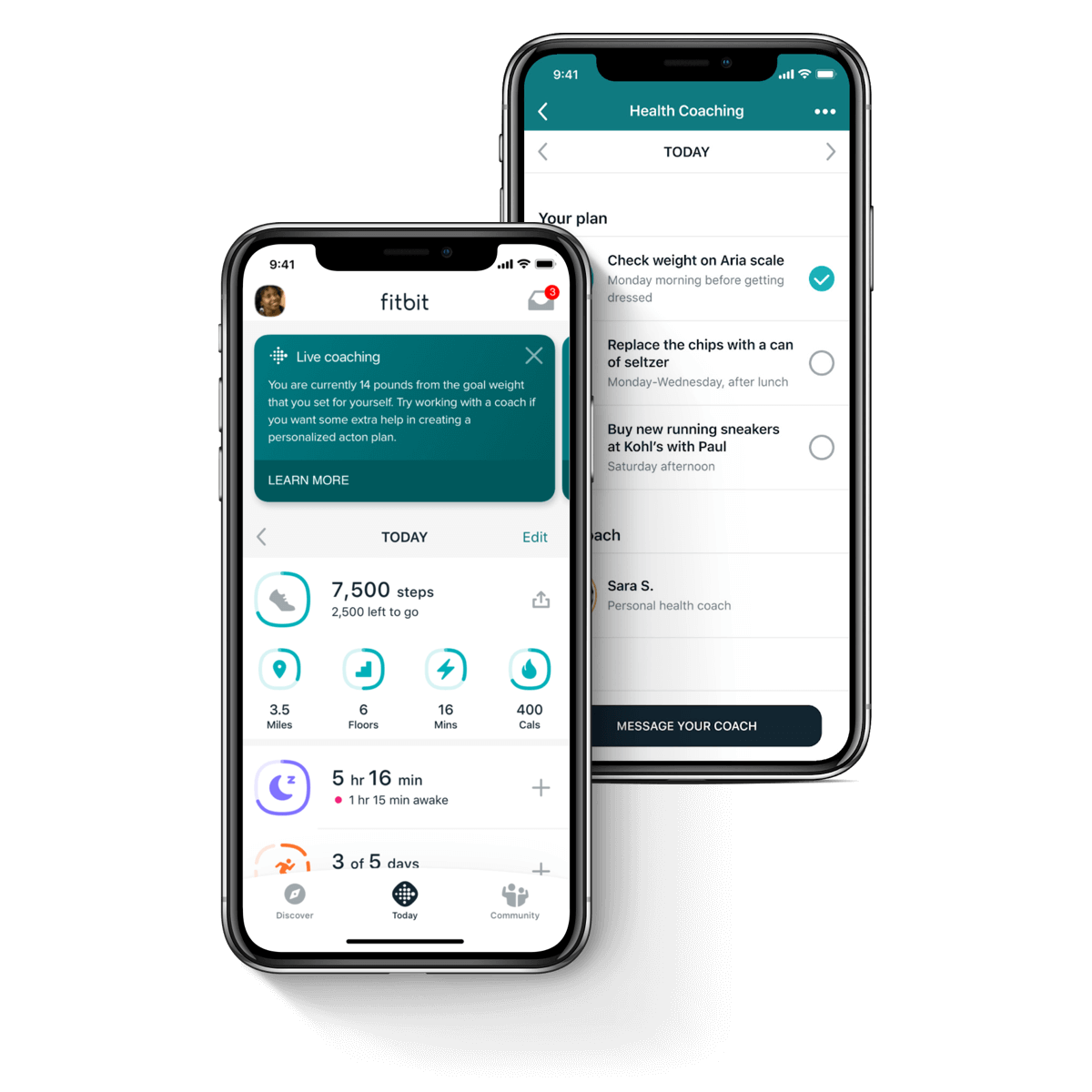 1:1 Health Coaching
Help employees reach their health and wellbeing goals with personalized, 1:1 coaching from Fitbit certified health coaches.
Provide participants with even more personalized guidance to reach their goals, no matter what they are and how often they may change
Participants learn practical skills from Fitbit's health coaches many of whom are certified health professionals, like registered nurses and dieticians
No one-size-fits-all programs; coaches design personalized plans for participants and tweak them as they go, based on progress
What You Need. When You Need It.
Find out more about offering Fitbit Care to your population by contacting us below: