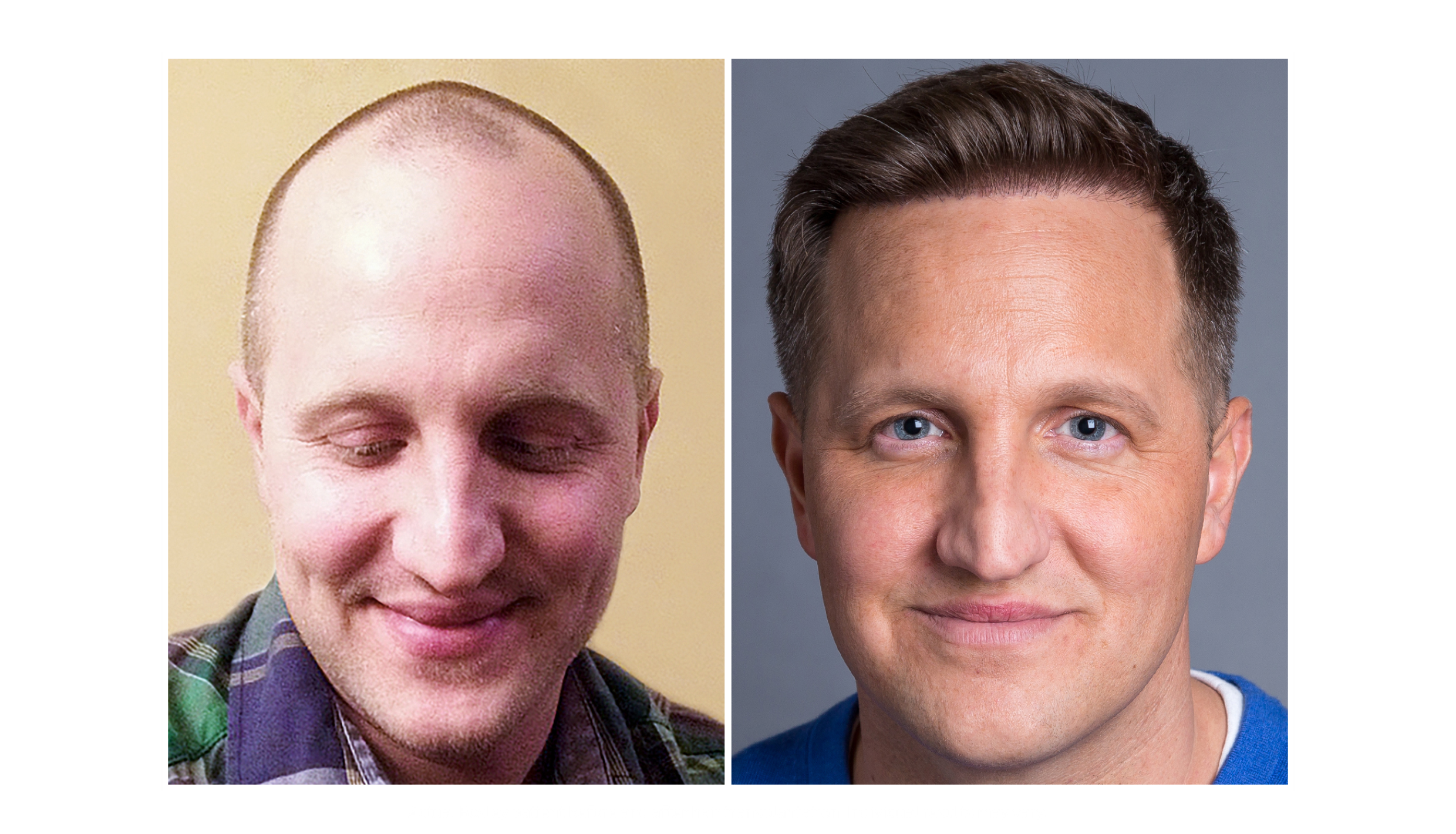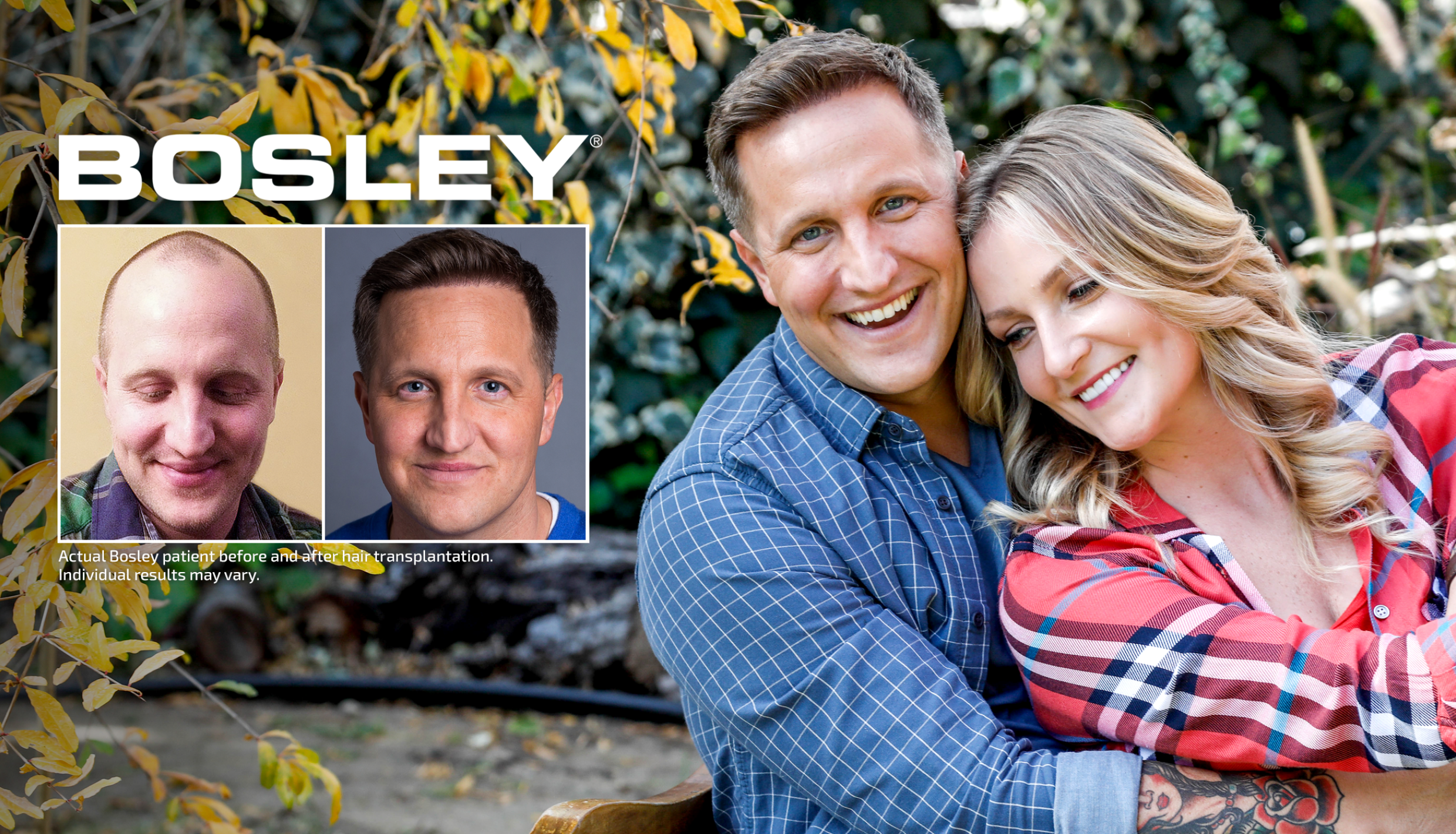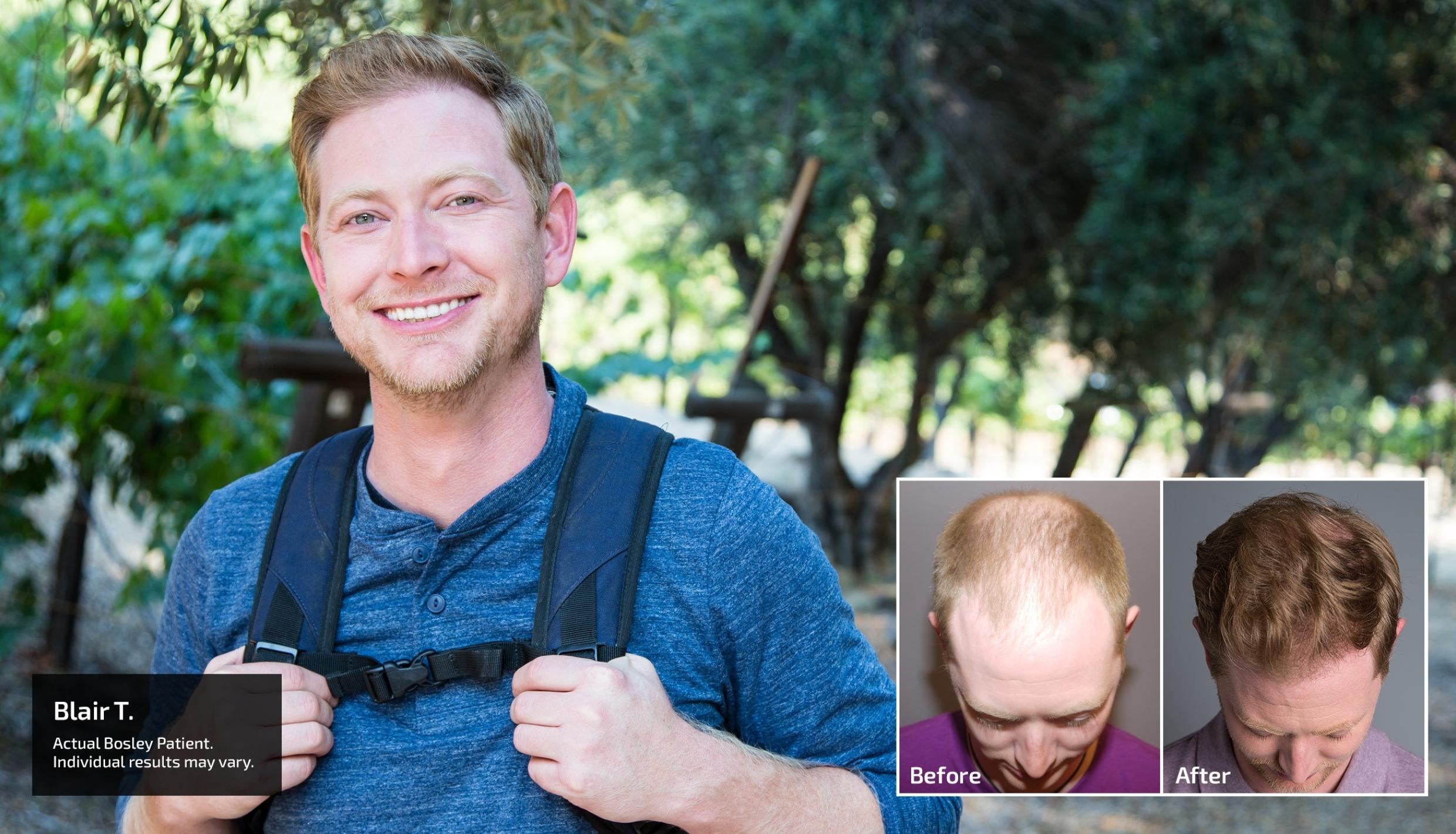 The Offer
Schedule a Free Consultation and Save $1,600 on FUE or FUT Hair Transplantation Services 
Bosley offers a wide range of surgical and non-surgical hair loss solutions to meet each patient's unique hair restoration goals. Bosley has over 70 locations nationwide and a variety of third-party financing options to help make hair restoration more affordable.
Bosley has been serving the hair restoration needs of their patients for more than 50 years. Bosley's highly skilled and experienced physicians are experts in the latest technology and hair restoration techniques, to create a completely natural looking result. A Bosley hair restoration can make you look and feel years younger.
Bosley calculates the final price of each hair transplant procedure on a per-graft basis, so the costs are unique to each patient. The exact number of grafts you'll need depends on the extent of your hair loss and your hair restoration goals, but most patients receive between 800 and 3,000 grafts. Typically, the price of a procedure ranges from $6,000 to $12,000. The best way to get an accurate cost estimate is to come in for a free consultation.
Ready to find out which solution is the best for you? Schedule a free consultation today, and start restoring your confidence and your hairline.
The Terms
This offer is only valid on FUE and FUT hair transplantation procedures.  This offer is not valid on SMP, Eyebrow, PRP, Laser Caps, BosleyMD products, or BosleyRx products.

Take $1,600 off (up to 20% off) your hair restoration procedure cost (FUE or FUT). 20% reflects savings of $1,600 off FUT hair transplantation at 800 grafts based on standard rate card. Minimum procedure size 800 grafts required for $1,600 savings, fewer than 800 grafts pays rate card or 800 graft price at $1,600 discount (whichever is lower).

Limit one $1,600 discount per customer, per hair restoration procedure. Discount does not apply to fees for procedure medications or post-procedure medications. Not redeemable for cash. Discount applies to Bosley's standard rates and fees, and is not valid with any other offer, coupon discount or certificate.

Not transferable. 

Void where prohibited. 

Void if sold, exchanged, transferred or reproduced.

Offer must be presented at time of payment for procedure. All information subject to change without notice.

Professional services provided by the affiliated physicians of the Bosley Medical Group (Bosley physicians). Bosley physicians are available only at Bosley Surgical Offices. Candidacy for hair restoration can only be determined by a Bosley Physician upon examination, diagnosis and prescription of a treatment plan. Your Bosley physician will determine if you are a candidate for hair restoration and recommend the optimal number of grafts to achieve your individual hair restoration goals.

Individual results may vary. Not all patients can achieve the results depicted. The photographs do not constitute a warranty or prediction of the outcome of your individual hair restoration. A patient may require more than one procedure to achieve their desired results. Ask your Bosley physician during your free consultation about your individual case.

If you have been approved for treatment by a Bosley physician, an advance payment (or Room Reservation Fee) of $1,000 is required to confirm your Reservation Date.  It is important that you keep your appointment.  Your consultation with a Bosley physician is always free, and you are welcome to consult with a Bosley physician whether or not you decide to take advantage of the room reservation protocol.  However, please note that no procedure will be performed at Bosley unless and until you have been examined and accepted for treatment by a Bosley physician.  After meeting with the Bosley physician, if you and/or the physician decide not to move forward with a procedure, regardless of the reason, the Room Reservation Fee (RRF) will be refunded.   

Bosley requires 10 calendar days' notice for any cancellation or rescheduling of your procedure appointment.  This is necessary to maintain the continuity of a valuable and busy surgical schedule.  Cancellation or rescheduling of your procedure within ten (10) days will result in forfeiture of your Room Reservation Fee (RRF).  If you later reschedule your appointment, another RRF will be required.  Notwithstanding the above, you will have seventy-two (72) hours from paying the RRF to cancel or reschedule without penalty.       

*The Bosley Guarantee: For all hair transplantation procedures performed by Bosley physicians, Bosley agrees to replace any non-growing hair transplant graft free of charge, providing the patient has adequate donor hair and meets the terms and conditions below. In Bosley's experience, such replacement has seldom been necessary. 

Hair transplantation patients may respond differently to treatment, and results may vary from person to person. For each surgical hair restoration procedure performed at Bosley (the "Bosley Procedure"), Bosley will replace any hair graft that did not grow, free of charge to you, provided that all of the following terms and conditions are met:

A minimum of 12 months has passed since your Bosley Procedure was performed by a Bosley Medical Group affiliated physician ("Bosley Physician") at a Bosley Medical Group surgical office;

Following the Bosley Procedure, you did not have another surgical hair restoration procedure performed by any physician other than a Bosley Physician. Further, you have not received or have been undergoing any aesthetic and/or medical treatment that can adversely affect hair growth;

You have complied with and followed all post-operative care instructions and other medical recommendations made by the Bosley Physician, and attended all of your post-operative consultations and other follow-up visits at a Bosley Medical Group surgical office;

A Bosley Physician has assessed the growth of your transplanted hair and has determined the number of grafts to be replaced at no cost to you; and you have not been determined ineligible for a subsequent Bosley Procedure by a Bosley Physician for any medical reason (including, but not limited to, failure to disclose relevant medical history and information, inadequacy of donor area, lack of elasticity of scalp tissue, appearance of a new medical condition).

The final decision regarding your medical eligibility for treatment will be made by a Bosley Physician in accordance with his or her medical judgment.

Copyright 2022 Bosley.  All Rights Reserved.  
This offer is only available on the Blue365 website.
Other important Terms and Conditions apply. Read our disclosure statement, terms of use, and privacy policy before proceeding further.