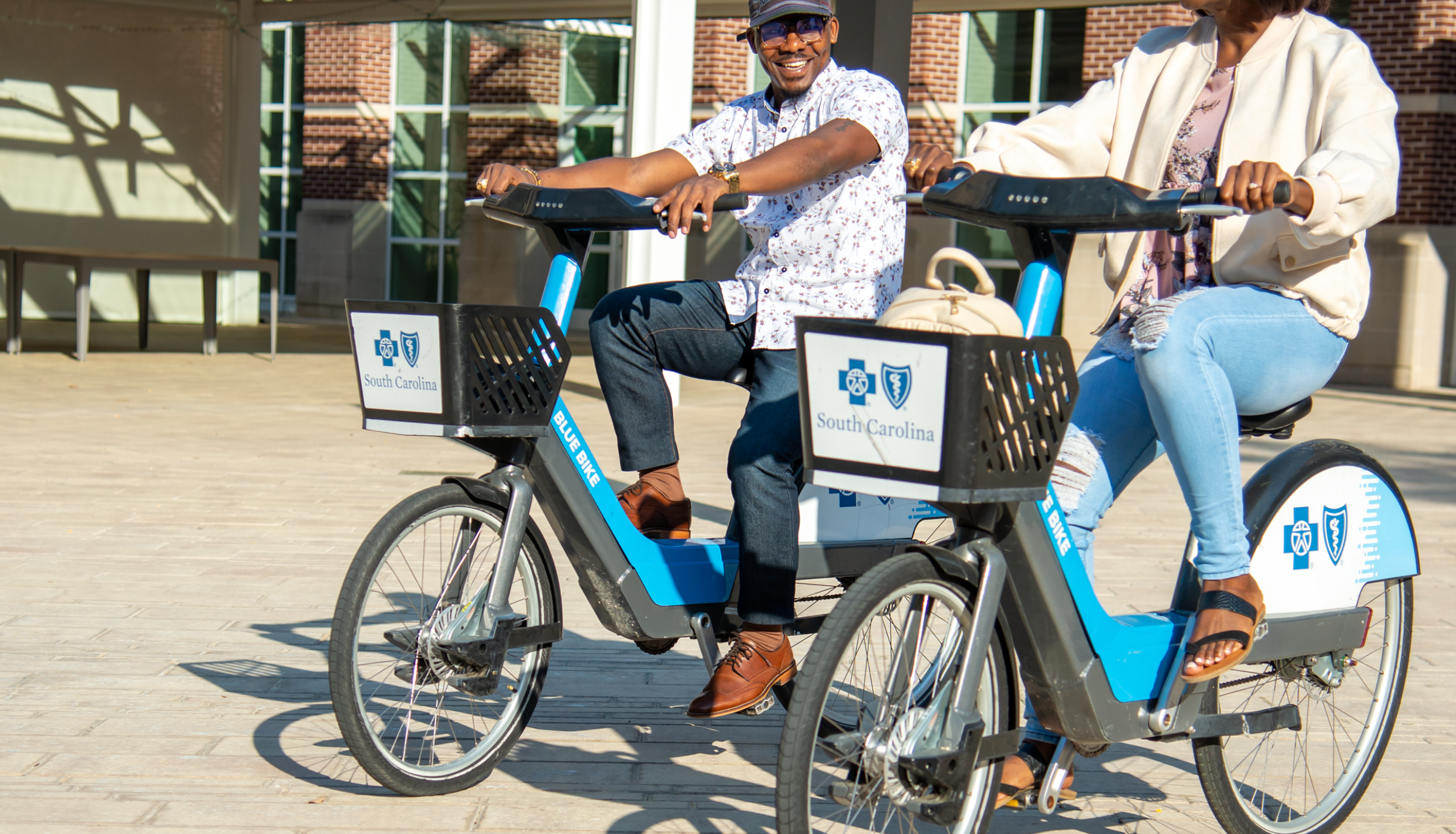 The Offer
Claim Your Free Pass by Downloading the Blue Bike SC App
Blue365 members can access a free 2 hour pass by downloading the Blue Bikes SC app.  Bikes are easy to use and are a great way to explore Columbia, South Carolina.
If you want to make a quick stop, you can use the secondary lock for an errand or to ask a local for recommendations.
Take the lock from the basket and loop the cable around a bike rack. Slide the pin into the marked slot on the right side of the front wheel. Listen for a "chirp" to indicate locking. Your bike will still be rented under your name, and the timer will continue to run until you return it to a docking station.
Use the mobile app to unlock a bike locked with the secondary lock. Once the chime sounds, firmly lift the pin and use a counterclockwise motion until the lock releases.
When you're ready to stop riding, choose any station and dock your Blue Bike. When you see the "bike docked" indicator appear on the bike screen, you have properly returned your bike. 
The Terms
Limited passes are available.  Offer expires when free passes end or when all passes are distributed.

Riders must be 18 years old or older.

Ride for up to two consecutive hours.

Dock your bike at any Blue Bike SC station within your two-hour trip window to avoid fees of $0.18 plus tax per minute. Note: Using the bike's secondary lock does not count as docking unless the bike is in a temporary station zone.

No refunds or exchanges.

Offer is only available in Columbia, South Carolina.

If you have questions, call Blue Bike SC at 877-460-2435 or send an email to info@BlueBikeSC.com.

BlueCross BlueShield of South Carolina is an independent licensee of the Blue Cross Blue Shield Association.

This offer is only available on the Blue365 website.
Other important Terms and Conditions apply. Read our disclosure statement, terms of use, and privacy policy before proceeding further.